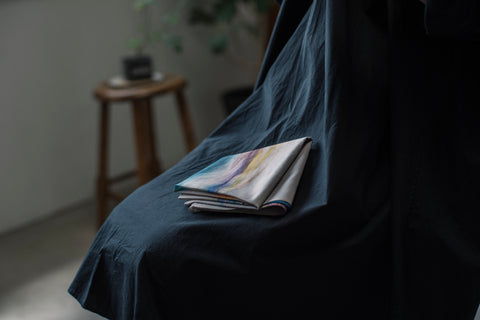 [a postcard signed by the artist] Handkerchief "Attaining Shape" with Contemporary Artist Yu Yasuda
Our gallery's original handkerchief in collaboration with contemporary artist Yu Yasuda.
For uplifting your ordinary day.
Made with fine lawn cloths, semi-transparent and lightweight.
Perfect to use as a shawl or a bandana.

Extra
As a bonus, we will enclose an original postcard featuring Yu Yasuda's new painting with his autograph.

* Limited edition. Please be aware that this product is subject to availability.
About reservation-only gallery rooms
At the reservation-only gallery room in Nishi-Ogikubo, Tokyo, you can try out the handkerchiefs in person.
Please make a reservation here .
About the artist
Yu Yasuda
MA in oil painting from Musashino Art University in 2007
His fluid touch and layers of neutral colours create shifting landscapes, remind us of the elusiveness of water, time, and space.
Exhibitions include "VOCA 2008", The Ueno Royal Museum, "Art in Office", Tokyo Municipal Museum of Art, "Yokohama Museum of Art Collection – Various Representations Related to Light", Yokohama Museum of Art, and many more. Public collections both abroad and in Japan. Recently his work has been expanded to public works, such as installations in a clinic hall and Toranomon Hills Residence Space.
HP: www.yu-yasuda.com
Instagram: yuyasuda_