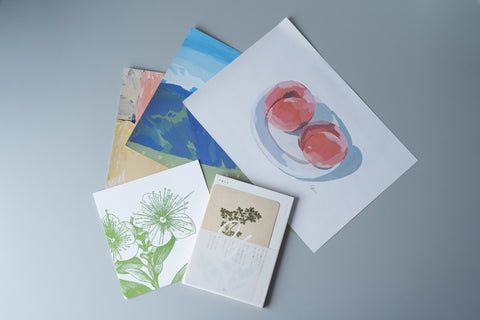 "Yorisou Tsukihi" Book Cover Set by Fumi Kotani
This is the first book from yori.so gallery & label.
"Yorisou Tsukihi" by Fumi Kotani. Like a poem, like an essay.
After reading, you will want to take a walk on a different road than usual,
It's a book that opens your heart.
I'm written in this book "The days are filled with you I like the word, how about you?
It is recommended to read gently before going to bed on a busy day to take care of yourself. The cover is letterpress printing and can be used as an interior decoration.
10% of sales are donated to Ronald McDonald House, an accommodation facility for sick children and their families. Learn more
here
.
"Yorisou Tsukihi" comes with 3 types of original book covers featuring the works of painter Mai Kurosaka and 3 types of postcards with photos of dried flowers by "Flower Plant Handwork Tsugumi". increase.
The shipping fee will be 360 ​​yen nationwide.